Details
Wild west ice cream barlour located at Granbury Square, combining two of our all-time favorite indulgences and bringing people together... tastefully! There is also an active event calendar featuring live music, Texas Hold Em' tournaments, Two-Step Tuesdays and more! Don't forget to check out our book exchange library, billiards and poker table, and artwork by local artists. We also give discounts to military, Police/Fire/EMT, city of Granbury employees as well as Granbury ISD employees.
Amenities
Pricing
Hours
Monday: 11am - 8pm
Tuesday: 11am - 11pm
Wednesday: 11am - 11pm
Thursday: 11am - 11pm
Friday: 11am- midnight
Saturday: 10am - midnight
Sunday: 11am - 8pm
Accessibility
Dining
Alcohol Served:
Dinner:
Family Friendly:
Late Night:
Live Music:
Lunch:
Non Smoking:
Take Out: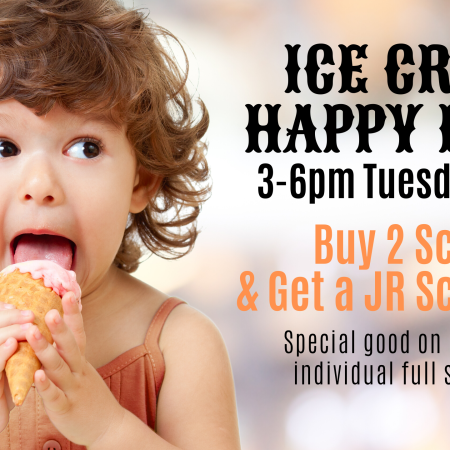 Jul 07
Jan 07
Ice Cream Happy Hour!
Ice Cream Happy Hour every Tues-Friday 3-6pm: Buy 2 individual full size scoops