Explore the history of the Best Historic Town in America!
Granbury is home to the most historic courthouse square in Texas, and it attracts visitors for more than a few reasons. Experience boutique and specialty shopping in more than 40 one-of-a-kind stores housed in historic buildings around the Historic Granbury Square. You will also find a dozen restaurants and eateries while you're experiencing the Square.
Granbury prides itself on its preservation of the historic charm and authentic Texas experience of the Historic Granbury Square. 
Restore your curiosity in this one-of-a-kind historic Square! Download and print our Square Map today!
Granbury Restored:
Landmarks and Historic Charm
The iconic Hood County Courthouse was the recipient of the Texas Downtown Association 2013 President's Award for Best Restoration. The Historic Granbury Square has been recently restored to have larger sidewalks, more greenery and seating for visitors, all while preserving the historic aspect and ambiance.
Additionally, the 1886 Granbury Opera House has recently been completely restored. This gorgeous theater sets the stage for the fantastic productions that the Granbury Theatre Company puts on year-round on this famous stage.
Around Granbury, you can find over 40 Historic Texas Landmarks. Scoping out these spots is a fun-filled day in itself! 
Historic Granbury Square
Many Texas downtowns are the center of their communities, but very few serve as the lively hub of attractions, entertainment and history quite like the Historic Granbury Square.
The Historic Granbury Square was the first courthouse square in Texas to be listed on the National Register of Historic Places. Being the first of its kind in Texas – you won't want to miss spending evenings on the Historic Granbury Square, with a variety of different restaurants, bars, a thriving art scene, live-hit shows, historic museums and specialty shopping.
Just minutes away are several beautiful and unique Bed & Breakfasts to complete your stay. You can also find the City Park, or the City Beach Park and Lake Granbury just a short walk from the Historic Granbury Square.
Making History!
A small town rich in culture and history, it is no surprise that Granbury won USA Today Readers' Choice Award for Best Historic Small Town in America! Experience the history of Granbury today!
Historic Granbury Square
Texas' first Downtown Square on the National Historic Register.

Hood County Courthouse and Clock Tower
Most photographed attraction in Granbury.
100 E. Pearl Street

Granbury Opera House
Restored to the original period of 1886.
133 E. Pearl Street

Haunted Granbury
Where Texas history never left!

Granbury State Historical Cemetery
Jesse James lies here... allegedly!
801 N. Houston Street

Brazos Drive-In Theater
Built in 1952, the Brazos Drive-In Theater has been in continuous operation as one out of a handful left in the great state of Texas.
1800 W. Pearl Street

Hood County Jail Museum
Built in 1885 with a gallows room for possible local executions!
208 N. Crockett Street

Dollhouse Museum
Over 6,000 dolls from across the world circa the late 1800s through today!
421 E. Bridge Street

Elizabeth Crockett Gravesite
David Crockett's wife lies here.
Acton Cemetery FM 167

Bridge Street History Center Museum
The stories! Written, oral, feuds, murders, legends, and love.
319 E. Bridge Street

Yeats-Duke 1858 Museum
Original Yeats log cabin. See what is hidden in the walls for 100+ years.
214 N. Crockett Street

Granbury Light Plant
The first electric light plant in Granbury was established in 1903.
510 E. Ewell Street

Hood County Historical Commission
Explore 70 Historical Locations in Hood County.

The Legend of John Wilkes Booth
A long-standing folklore legend, many believe that John Wilkes Booth once lived in Granbury, above the Nutshell Eatery (now the Square Cafe), as John St. Helen. The story even appeared on "20/20" and "Unsolved Mysteries".

Granbury Historic Railroad Depot
Built in 1914, the Granbury Historic Railroad Depot offers a glimpse into the frontier days when railroads were vital transportation between towns.
109 Ewell Street
Around Granbury, you can find over 40 Historic Texas Landmarks. Scoping out these spots is a fun-filled day in itself!
Granbury Cemetery Tour
Explore the history and mystery of Granbury's past through a tour of Granbury Cemetery.  Granbury Cemetery, or College Hill Cemetery as some old-timers may say, sits on a hill eight blocks north of the Granbury town square. Many of the area's historical figures are buried here including General Hiram B. Granbury, the town's namesake who was killed in the Battle of Franklin during the Civil War, the infamous outlaw Jesse Woodrow James, as well as Ashley Crockett, grandson of Alamo hero, Davy Crockett. Many war veterans are also buried here, dating as far back as the War of 1812 to Vietnam.
CLICK HERE to view our Cemetery Tour Brochure
Self-Guided Downtown Walking Tour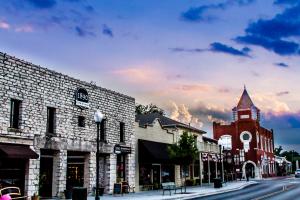 Enjoy our self-guided walking tour around the Square. Come into the Visitor Center to pick up your tour guide, or download it here!