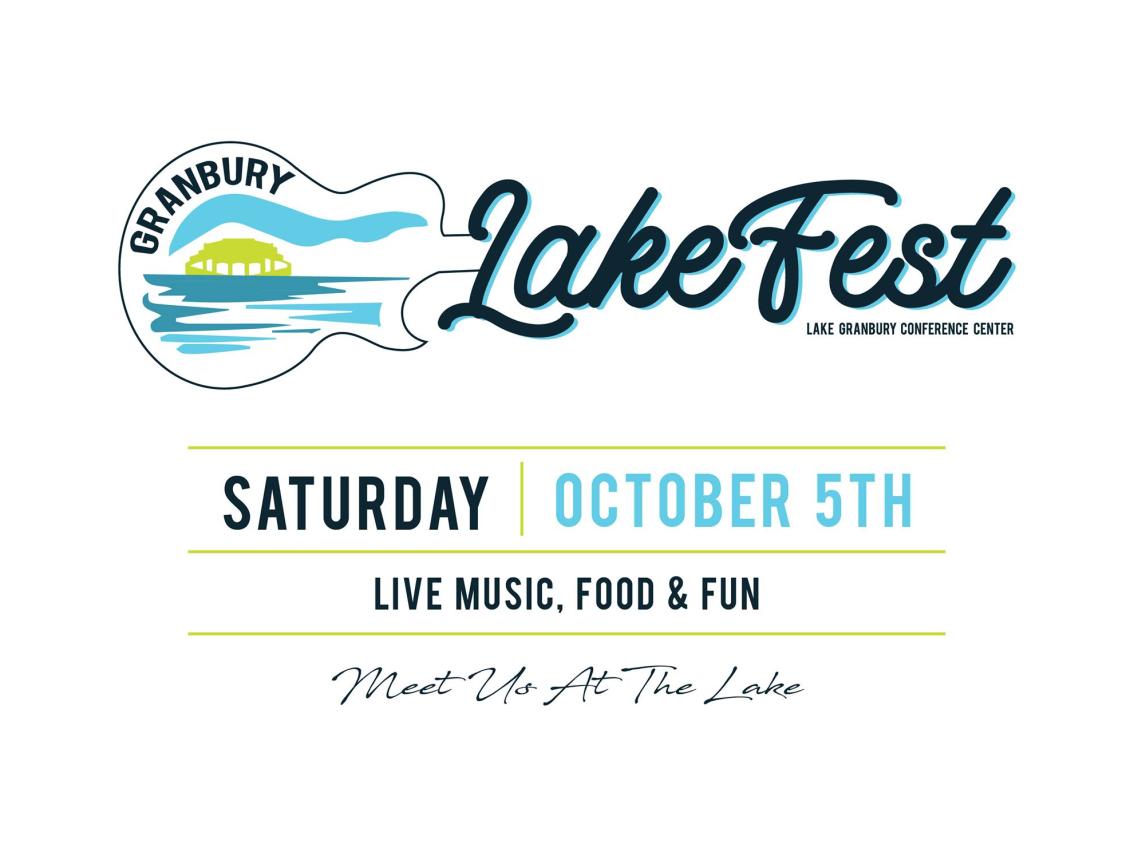 Visit Granbury, City of Granbury Convention & Visitors Bureau (CVB), and Lake Granbury Conference Center are proud to present the 2nd Annual LakeFest music festival on Saturday, October 5 at the Lake Granbury Conference Center. Previously known as Ten at the Lake (2018), the event began last year as a ten-year birthday celebration of the Lake Granbury Conference Center. 
Visit Granbury, Lake Granbury Conference Center, and the Hilton Garden Inn will team up to host this free outdoor Texas country music festival. The festival will include live music, food, and fun for the whole family. The event is free to the public as an appreciation for the community's support, a client appreciation event, and recognition of another successful year of Lake Granbury events.
Bands kick-off at 3:00 p.m., on the City stage under a large shaded tent and continue through 11:00 p.m. with local entertainment followed by featured entertainers including Austin Allsup, Saints Eleven, and Truck Stop Gamblers.
Tammy Dooley, Director of the Granbury CVB & Lake Granbury Conference Center said, "We are really proud to work with some of our great tourism partners like the Hilton Garden Inn, Hank FM, The Ranch Radio, Lake Granbury Master Gardener's Romancing the Monarchs, and Hood County Clean Air Coalition to coordinate a great lake festival for visitors to Granbury and our community to enjoy."
Food and beverage will be available for purchase. Some chairs and tables are provided, but everyone is encouraged to bring chairs. No coolers are permitted. 
LakeFest Event Details
Date: October 5, 2019
Location: Lake Granbury Conference Center
Address: 621 E Pearl St, Granbury, TX 76048
Website: www.lakegranburyconferencecenter.org
Time: 3:00 PM to 11:00 PM
Price: FREE
Dooley continued, "There is always something to do in Granbury, and this is another example of an event we want to grow into a multi-day event. Plans are beginning as we consider a two-day festival/event in 2020 when we hope to include a community dinner on the boardwalk, boat rides, and more fun on the lake. A multi-day event will encourage additional overnight tourism and falls in line with our City's Strategic Vision for tourism and utilization of Lake Granbury. Come enjoy this festival under the stars on beautiful Lake Granbury."
About the Artists
Austin Allsup is most recently known for his success on season 11 of NBC's The Voice. Before he graced millions of television sets across America, he had already become a staple in the Texas Music Scene as a gritty folk rocker with a thirst for originality. "Austin is a guy that can be popular in mainstream radio, but still be credible with outlaw country artists."   – Blake Shelton. Austin has released several studio albums including "Criyin Out Loud, "Sink or Swim," "Still Cryin Out Loud," "This Weary Land."
Saints Eleven is a Red Dirt Country Band hailing from Dallas, TX with a mixture of Country, Americana, Blues, & Rock N'Roll! After three potent album releases, twelve charted radio singles, a slew of virally intensive music videos and regular co-bills with many of the top artists in the scene, lead singer and guitarist Jeff Grossman says his proudest career highlight so far was having Walt Wilkins in the producer's chair on their latest album "Coming Back Around." On the live front, when you stand in front of the stage at a Saints Eleven show, your senses are overrun by contrasting elements that hook your attention and keep you there. Your ears are seduced by the sounds of vintage honky-tonk music mixed with electrified bluegrass, but the rest of your senses are taken hostage by four guys who play with an energy fueled by years of a heavy rock n' roll influence. 
Closing out the event is Truck Stop Gamblers, a country band playing music with Rockabilly, Southern Rock, Blues and Texas Red Dirt flavor. The band consists of 4 members, each with a variety of musical influences–from a lead guitarist (Drew Hudson) who was brought up on Stevie Ray Vaughn to a lead singer (Logan Gray) who was raised on Gary Stewart and other country classics. With albums including "Made for You," Fort Worth Sound Acoustic Sessions," "Here," and "Wasted Again" they are in extreme demand as they are currently based in Granbury, Texas and steadily book shows at clubs, fund raisers and private parties in and around the Dallas-Fort Worth area. They have established a large, loyal fan base that is excited to have them on home turf.
For questions and schedule updates about the event, contact Visit Granbury at 817-573-5548 or www.visitgranbury.com or Lake Granbury Conference Center at 682-936-1200 or www.lakegranburyconferencecenter.org.