With springtime just around the corner, many of us have new fashion on our minds. The sunshine is inspiring us to spruce up our homes as well as our wardrobes!
The owners of Destiny and Spellbound, Rock and Tammy Pistillo, have some tips on selecting pieces that will make you and your home look and feel fabulous.
Do you need some out of the ordinary retail therapy? Discover timeless charm on the historic Granbury Square and nearby shops. Whether you are looking for clothing, shoes, boots, gifts, home decor or collectibles, Granbury has something for every shopper.
We suggest stopping at Destiny while you are in town. Destiny has all of the most sought after clothing styles, footwear, accessories & décor to complement you and your lifestyle. 
"We think each day is special, and you should dress the part."
This spring, we suggest pull-on denim, the incredibly popular slimming 'Up Pants' as endorsed by television talk show host and fashionista Kathie Lee Gifford. These pants hug every curve in a flattering way, and they are so comfortable. You will want more than one pair!
We also have a Curvy Plus line, which has been wildly popular and proves there is no need to sacrifice style for bigger sizes.
Our Alegria brand shoes are some of our hottest sellers that keep our customers coming back again and again.
If you want some new looks this spring, but are not sure where to start, we can help! Simply stop by the store and we'll find outfits that look and feel fantastic on you, and perfect for events planned this season. Our experts have a knack for selecting the most flattering pieces in the season's best colors for you.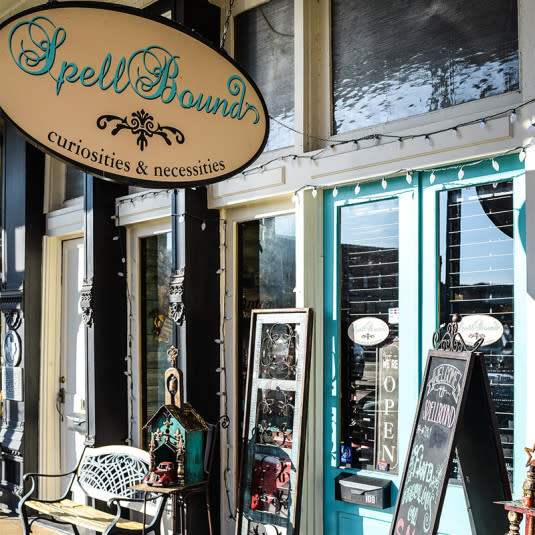 While in town, you'll also want to stop by Spellbound, which carries a one-of-a-kind assortment of items you're sure to love. From jewelry to fudge, and body lotions to handbags, you will find a gift for any occasion at this specialty store. Our attentive staff is happy to make suggestions for you, as well! Our customers love our expansive selection of Texas-specific products for those bursting with Texas pride. Home décor items, including themed pillows, help bring a fresh look to your room for the new season. And you will spot hard-to-find beauty items here that can put some sparkle back into your eyes after the chilly days of winter. To get a sneak peek before your trip, visit Spellbound online to preview some of the fabulous finds.
Both Spellbound and Destiny offer the courtesy of complementary gift wrapping and free shipping! Follow us on social media, and watch for our sales and specials. We also love to host private shopping parties!
Of course, we provided you with an overview of just two of the MANY stores in Granbury. You can view a complete list here. Happy shopping!