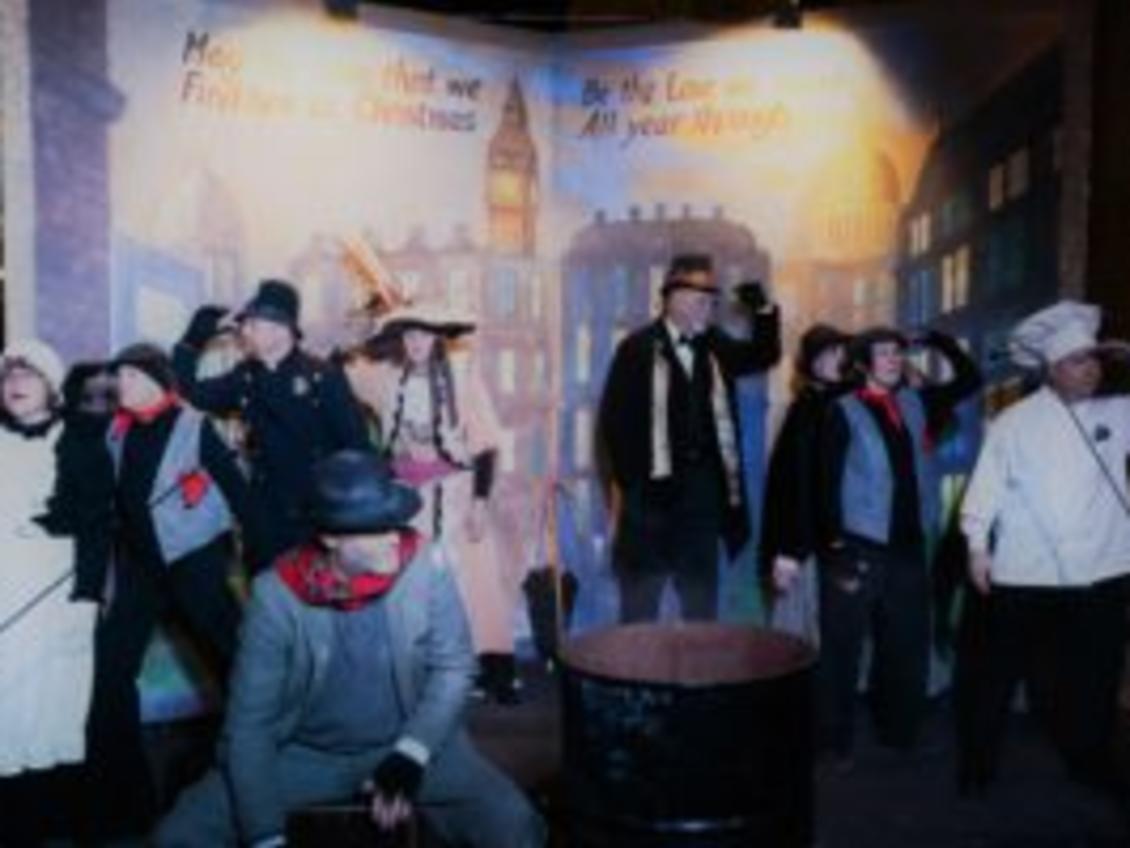 If you and your loved ones want to experience the magic of Christmas together, visit Granbury on December 9th and 10th at 6:30 p.m., when Lakeside Baptist Church and the city team up to present The Granbury Living Christmas Cards™ on the historic downtown square.
During the free interactive event, larger-than-life Christmas cards "come to life" through the talents of dancers, singers, actors, and technicians. There are eight cards, and each card is a separate dramatic vignette. The audience rotates from card to card, and over two hours, spectators are able to see all eight vignettes in action. Also, on Saturday from 2-5 p.m., Lakeside is offering a Kids Christmas Village on Bridge Street. The Village's activities include a nativity petting zoo, hot chocolate, and crafts.
The Granbury Living Christmas Cards™ was the brainchild of Carey Dyer, minister of music and worship at Lakeside. Carey spent eleven years as a professional entertainer in music theaters, and he had seen and participated in many Christmas events such as pageants, plays, and "Living Christmas Tree" productions. He also grew up going to Disney World with his family, and one of his favorite attractions as a kid was the Carousel of Progress, where the audience rotated around the action. In 2012, Carey enlisted his longtime friend and mentor, Dennis Parrish, to help write and produce the event. "Dennis' creative fingerprints are all over the production," Carey notes. "And we were incredibly fortunate to have nationally-renowned artist James Spurlock, one of our church members, take on the huge task of painting the cards. James and his team of helpers hand-painted every inch of them."
Scenes depicted on the cards include Granbury Winter Wonderland, Silent Night, and The Nativity. Spurlock and his "elves" spent two and a half months and a thousand (!) hours to create the eight cards. Made from 8 by 10 ft. mahogany panels, the cards create an impressive backdrop for the members of LBC who act and sing in front of them.
Carey adds, "We are so thankful to be working in partnership with Hood County, the City of Granbury and the HGMA again this year. We couldn't pull of this event without their generosity in opening up the square to us." In addition, over 100 volunteers make the bi-annual event possible, Carey says: "Our church's staff and every department—children, youth, and adults—come together to bring the cards to life."
Preston Cave (Lakeside's minister to youth) came to Granbury with his family as a tourist during the 2014 Christmas season. He says, "My first impression of the performance was how each card told a story of what Christmas should be. They ushered in the magic of Christmas like I hadn't felt since I was a child."
Both attendees and participants enjoy The Granbury Living Christmas Cards™. "Being part of the cards is a way to shine God's beautiful light in a dark world," says Nancy Nowlin, a Lakeside member who participated in the event in 2014 and 2012. "And to see the smiles on people's faces puts a smile on my face."
Shannon Quinn, a Lakeside choir member, adds, "This event is a way for us to give a gift to our community while using our God-given talents for Him."
For more info–including photos of past productions–visit www.granburychristmas.com or "like" the site on Facebook at www.facebook.com/granburychristmas.