Imagine a life-size Victorian Style doll house. This childhood joy has become a reality right here in Granbury, Texas. 421 E. Bridge Street is open to the community and tourists every Friday through Sunday as the Granbury Doll House Museum. Owners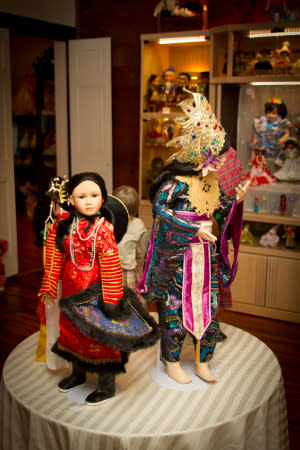 and close friends, Barbara Williams, Jane Sharp and Kathy White maintain this local treasure. The doll ladies opened thedoors in December of 2012. Barbara manages the business, Kathy heads up marketing andJane runs the doll hospital. That's right, the doll hospital.
At the doll hospital, Jane is careful to care for each doll's needs individually. As an expert in proper restoration, she mends the clothing and construction according to the doll's age. For example, the costume and limbs of a 1920s doll would be structured quite differently than that of a doll made in 1980. She is careful to remain true to the fashion of the time, as well as how they were produced. For specific doll parts and supplies, Jane orders only from Dollspart, a company in New York. Dr. Jane can handle everything from a loose button, to tightened joints to major surgery.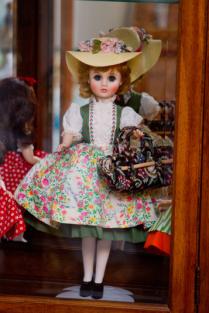 The doll collection spans three centuries, the oldest doll dating back to 1860, a family heirloom of Barbara and Jane. The dolls vary in age, size and style as they reflect each decade's pop culture trends well. Visitors old and young are sure to find an "old friend" that brings up memories of their youth.
The dolls span the walls of the large rooms in the old Victorian home. The doll ladies do a superb job keeping a rotation on the exhibits, which keeps it fresh, amiable for guest speakers and decked out for the holidays. Over 600 dolls were from the ladies' personal collections, the rest have been donated and added to the collection over the years. Amongst them you will find the classics s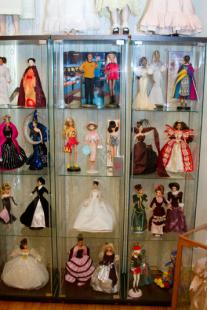 uch as the Madame Alexanders, Shirley Temples and of course an extensive Barbie collection. There are also handmade, one-of-a-kind dolls from all over the world.
Upon a visit to the Doll House, you will have the opportunity to view unique dolls from centuries past, as well as learn the history and make up of these wonderfully preserved figures. The Doll House Museum is a well-paired match for Granbury, whose town is full of unique history and beauty. The doll ladies keep a guest book at the front where they encourage all visitors, local and otherwise to share where they're from. They've been presently surprised to see Nova Scotia, Ontario and even the United Kingdom in their book entries.
The Doll House Museum has been published in the Dallas Morning News, the AAA Texas Edition, Dolls Museum, Battle Cry magazine, United Daughters of the Confederacy publication, as well as local publications such as Lake Granbury Living and Granbury NOW.
For more information about The Granbury Doll House, visit their Facebook page here. For directions, click the map below.