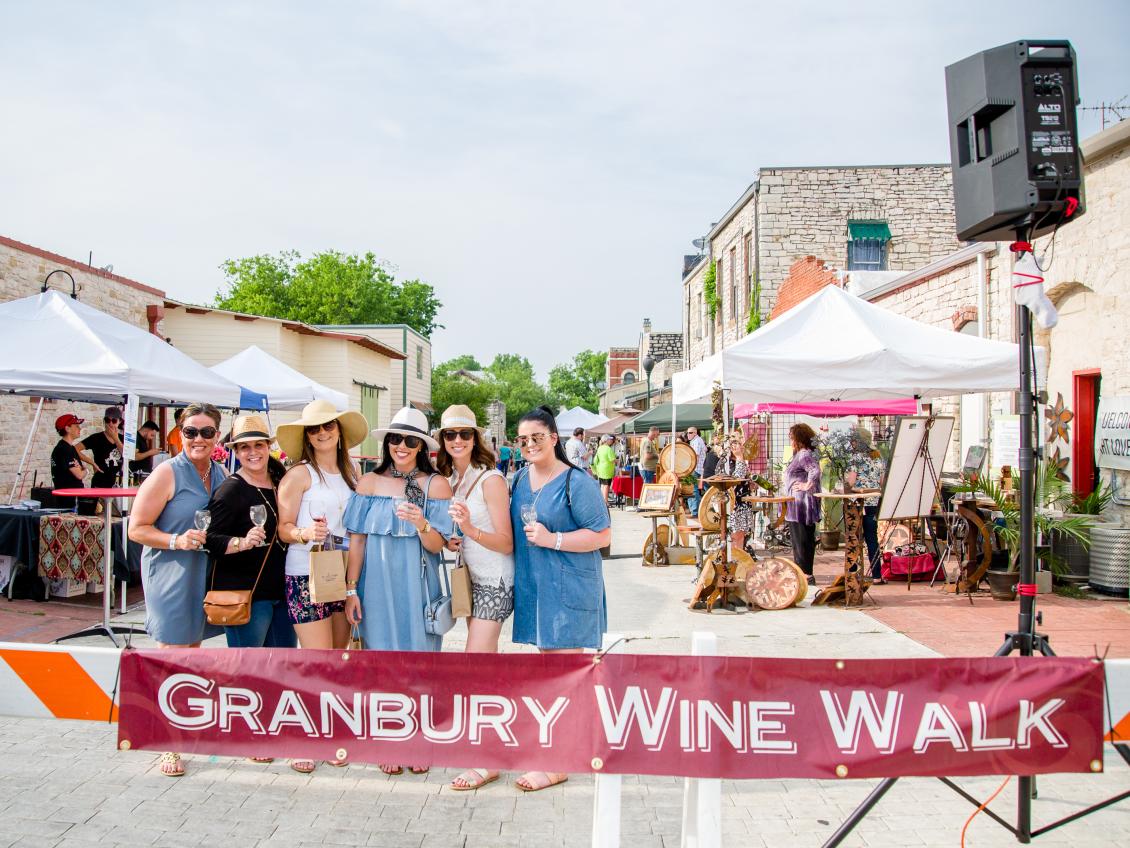 It is springtime in Granbury! For us, that means a city bustling with activity, bright sunny days, and the Granbury Wine Walk! The Granbury Wine Walk has fast become a Granbury tradition, and a favorite of Texas wine lovers. This year, the Wine Walk takes place on April 26-28.
The fun gets started on Thursday night at the VIP "Sip & Savor" event, where attendees can enjoy a taste of Texas with hors d'oeuvres served by celebrity chefs, paired with carefully selected Texas wines. This year's event will be held at Warren's Backyard. The "Sip & Savor" event is sold out for 2018. If you do not have your ticket for this year's event, keep an eye out for 2019 announcements.
On Friday, April 27th, the Wine Walk gets started at 2 p.m. and runs till 8 p.m. Your admission gets you a Wine Walk ticket, 15 tasting tabs, wristband, map, and wine glass. A limited number of tickets are available. Tickets are now $35.00 online, and at the event. Buying online ensures you a ticket, and a shorter wait time at the ticket booth. Wine Walk tickets can be purchased here.
Saturday, April 28th, the Wine Walk begins at 11a.m. and runs till 7 p.m. In addition to great wine, the Wine Walk also hosts artists, vendors, and crafts people on the Historic Granbury Square. You will not go hungry! Food vendors will offer tasty treats. In addition, all the restaurants of Granbury Square will be open.
The Granbury Wine Walk is not just a great event, it funds worthy local causes. Proceeds go to several Granbury and Hood County charitable organizations, and it also funds several scholarships for Hood County youth.
To help plan your visit for the Wine Walk, check out VisitGranbury.com. We have a full list of lodging and dining options, online along with an events calendar. Book your stay today, before the rooms are sold out.
We hope you have a great time at the Wine Walk! When you come, be sure to tag us on social media with #texaswinewalk and #visitgranbury!