If you have yet to spend Christmas in Granbury, this is your year. There is so much to see and do, especially with your little ones. The magic of the Christmas spirit is alive in Granbury, and we can't wait to share it with you!
Santa's House
Bring the littles to experience the magic of Santa and Mrs. Claus, right in the heart of the Historic Granbury Square. Head to Granbury to spend time with everyone's favorite couple this holiday season! This free event will take place Fridays, Saturdays, and Sundays from November 25-December 23 – at the gazebo on the grounds of the Historic Hood County Courthouse.
A Christmas Carol
After a SOLD-OUT Christmas Carol Experience in 2021, Brian Clowdus and his team are back in Granbury for what has now become a Christmas Tradition! This intimate immersive experience will be limited to 50 guests per show and is sure to sell out again. Get your tickets and ring in the season in style.
Miracle on 34th Street
Looking for something festive at the Granbury Opera House? Granbury Theatre Company is presenting Miracle on 34th Street from December 2-23!
This classic is a must-see, and it all takes place right on the Square for the perfect evening activity.
Record-Breaking Nativity Scenes
Celebrate the reason for the season. This beautiful display of over 1,600 nativity scenes showing the birth of Christ through the eyes of the world. In the quaint setting of Langdon Center's Concert Hall, see this wonderful collection depicting how Christ's birth is celebrated.
Shopping + Dining Around Christmas Lights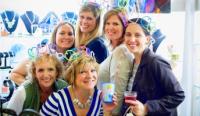 Hit downtown historic Granbury in the evenings for a breathtaking light experience on the buildings and in nearby parks. With unique dining experiences, and boutique shopping to take care of everyone's gifts, it's the perfect night out with friends or a partner this season. The second weekend of the month is the season finale of Girl's Night Out, with the big winner of $500! https://www.visitgranbury.com/event/girls-night-out/15137/
Make it even more fun with a horse-drawn carriage ride around the Square.
Feeling the magic yet?
Join us in Granbury this Christmas, it's an experience you won't soon forget!
Find lodging, dining, and ticket options here.