Jump on January 14, 2023!
Go Jump in a Lake – Lake Granbury Goosebump Jump 2023 Returns!
 The forecast? 100% chance of snow!
Online registration is now closed. Please join us at the beach on Saturday, January 14 to register at the gate. You can print your form and bring it to the event, or into the Visitor Center. You will be able to pay your $10 registration with cash or check.
Visit Granbury – City of Granbury Convention & Visitors Bureau (CVB), is challenging the community, civic organizations, charitable organizations, and brave individuals to help us kick-off the Winter-Guest Tourism Season (January - February) by jumping into the frigid waters of Lake Granbury Saturday, January 14th at City Beach Park at the third annual Lake Granbury Goosebump Jump event.
 "The Goosebump Jump is our kickoff event to our Winter-Guest Tourism Season in Granbury. This is a time when hotels, restaurants and attractions offer special discounts and packages and increase guest benefits to incentivize visitors to come to Granbury in January and February. And the forecast? 100% chance of snow." said Tammy Dooley, Director, City of Granbury Convention & Visitors Bureau – Visit Granbury.
The event is sponsored by the Granbury Area Lodging Association, Visit Granbury – City of Granbury, KHITS 95.5, JR Spas, Texas EMS, and Hood County News. It is a friendly competition with funds raised from the $10 registration fee along with a $1,000+ prize generously provided by the lodging association to be awarded to the 501C3 organization that signs up the largest number of participants. "What a great way to kick off any non-profit organization's budget than to start with an instant $1,000 plus!" – Dooley added.
The winning charitable organization will be determined by how many jumpers register to name their favorite charity to win the funds. Participants must register and check into the event to be counted. The 2022 event raised $3,171.00 for the winning charitable organization – Mission Granbury (41 checked-in jumpers). Judges will also award prizes to the winning participants for best costume, best couple costume, best group costume, oldest competitor, and furthest traveled. Spectators do not have to register and are invited to come to watch the fun. Children are welcome to register and must be accompanied by an adult.
Build your team! Share the Goosebump Jump event with your friends on social media! Here's an easy copy-and-paste message:
YOU'VE BEEN GOOSED! 
I challenge you to join me on January 14th at City Beach Park for the Goosebump Jump to raise money for charity, and have fun! 
I'm jumping to raise money for (insert CHARITY OF YOUR CHOICE HERE)
Register to support your favorite charity today and challenge a friend! https://www.visitgranbury.com/goosebumpjump/"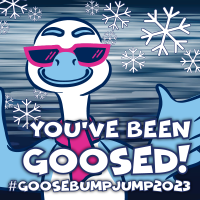 (Download this image to share to social media!)

The first 200 participants to register online or in person at the event will receive a souvenir Lake Granbury Goosebump Jump 2023 medal.  
Online registration will close Jan. 6 at 5pm after which time you may bring your registration form and/or cash or check to Visit Granbury or sign up the day of the event.
The event will take place at Granbury City Beach and end with warm festivities at the Hilton Garden Inn. Registration is at the Lake Granbury Conference Center parking lot adjoining city beach park entrance. The event schedule: 10 am registration and sign-in; 11 am costume judging & awards; 12 Noon - Official Jump; 12:15 pm – 2 pm snow slide activities. To warm up after the jump there will be hot tubbing fun provided by JR Spas. Hilton Garden Inn will host the Coffee/cocoa/cookies after party to begin immediately following the jump.
New This Year - Fun ways to stay warm!
| | |
| --- | --- |
| | Get your blood pumping at the Mammoth Ice Age Race - 5K, 10K, & Half-Marathon! The race will begin and end at Hewlett Park (right across from City Beach) with the First Heat starting at 8:00 AM. |
| |  Warm up your taste buds! HGMA (Historic Granbury Merchant Association) is sponsoring a Chili Cookoff, "Chilly on The Beach" which will add to the fun. The Chili Cookoff awards will be presented at the Hilton after-party. |
The Granbury CVB works to promote and enhance the visitor experience increasing tourism economic impact. This fun event is yet another way we can enhance direct visitor spending to our city and bring the community together to enjoy the fun.  Everyone is invited to participate or come cheer on your favorite charity team. "Last year the temperature at jump time was in the low 30's and wind over 20mph. Perfect goosebump weather." – Dooley continued.
For questions, or to enter the Goosebump Jump, please contact Rhiannon Crump/Event Coordinator 817-573-5548.
To register by check or cash, please print out this form and bring it to the Visitor Center, mail it with your payment to Visit Granbury at 201 E. Pearl St. Granbury, TX 76048, or bring it to the event on January 14!