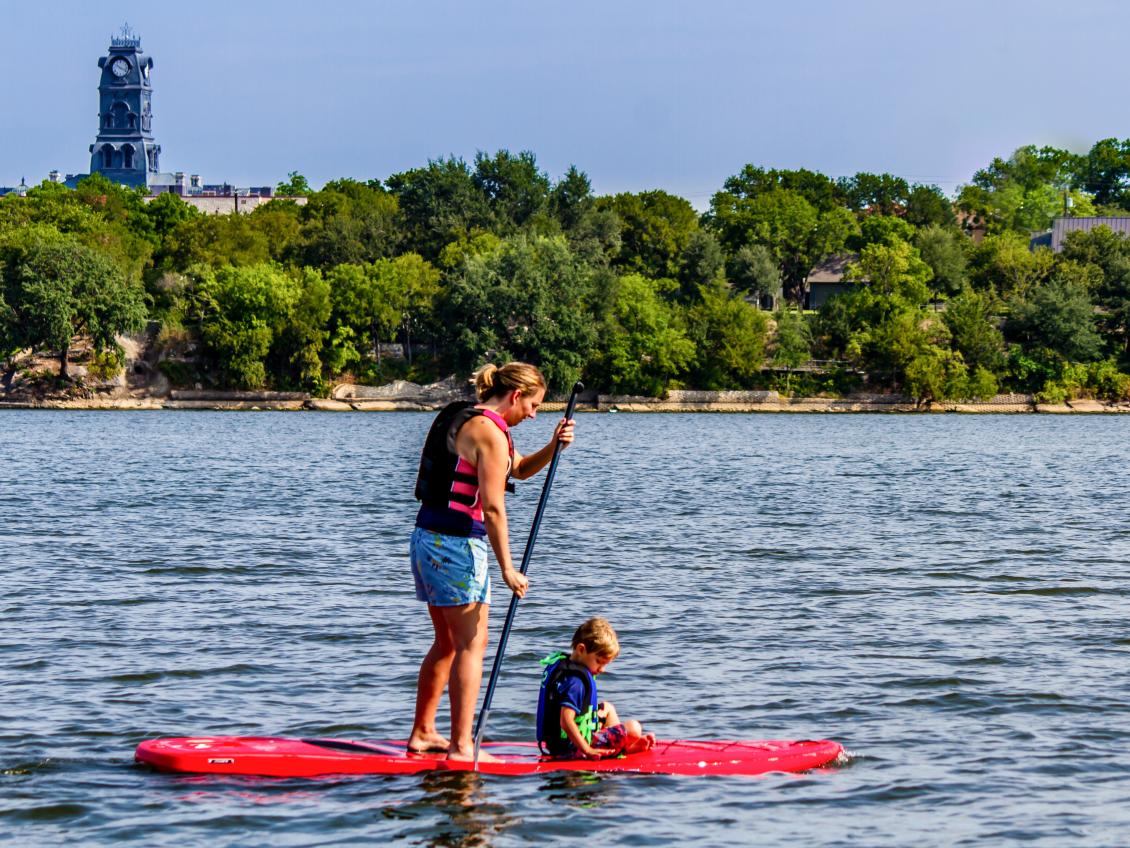 Granbury is a quintessential Texas town that has it all!
Let us help you plan your first visit to Granbury.
The first thing we recommend is looking at VisitGranbury.com and specifically our events calendar. Festivals, art shows, theater listings, live music, and so much more are listed there.
Granbury always has something going on! In the spring, we celebrate General Granbury's Birthday, and hold the Granbury Wine Walk. We kick off the summer with a big Memorial Day Bash. We have the Old Fashioned Fourth of July Celebration for Independence Day. On Labor Day weekend, there is a lighted boat parade. Fall brings the Paranormal Expo, Oktoberfest, and the Harvest Moon Festival of the Arts. Christmas is a big deal in Granbury. All season long, Santa is in residence on Historic Granbury Square. Everyone enjoys the Candlelight Tour of Homes. There is also a "Night of Lights" Christmas Parade.
Once you decide on your travel dates, you will want to select your accommodations. If you want something romantic, Granbury has several bed and breakfasts. The Inn on Lake Granbury is just a short walk from the Square and is a very romantic option. The history buff will love the Nutt House Hotel, right on Granbury Square and built in 1893. Granbury also has traditional hotels such as the Hilton Garden Inn, and a Holiday Inn Express. If you want something more adventurous and rustic, Granbury also has cabins and cottages available. The Granbury Cabins at Windy Ridge are farmhouse-style cabins set on an idyllic, wooded, 10 acre property. If you want to go back in time, the Texas Heritage Cabins are for you. This is the perfect place to unwind and take in the big Texas sky.
People love to shop in Granbury. The Historic Granbury Square has art galleries, boutiques, and wineries. Here is our guide to shopping in Granbury. For the art lover, we recommend a visit to Artefactz where Cynthia James is the artist in residence. Red on the Square and the Paisley Buffalo are just two of the many boutiques that have a huge selection of great gifts, home décor, and clothing. For the serious chef who wants to add to their kitchen, check out Eighteen Ninety Marketplace and the Panhandle are good options. Sports lovers will want to visit Doug's Sports House, and see all the sports memorabilia for sale.   
Granbury also is a foodie's delight. Our restaurant guide can show you all the options we have. There is everything from fine dining to casual, lakeside hangouts. There are options for steaks, Italian, German, contemporary American, home cooking, and even old-fashioned hamburgers.
Granbury is turning into a beer, spirits, and wine lovers' destination as well. There are several local wineries. Revolver Brewery offers tours on Saturday. The Local Goat is a new addition to the scene, they distill spirits on site, and you can see it happen right in front of you.  Don't miss their handcrafted cocktails at their mixology bar.
There are also several tours and museums to visit in town. For example, the Ghosts and Legends Tour gives you a tour of the Square on foot, along with some history and fun.  You can also tour Granbury on a Segway tour. Visit the Hood County Jail Museum or the Dollhouse Museum---great for the whole family.  The Poppin' Bottles Winery Tour is lovely for wine enthusiasts.
If you are into sports, Lake Granbury is perfect for fishing, waterskiing, stand up paddle boarding, and canoeing.  For hiking, the Acton Nature Center and Dinosaur Valley State Park are both a short drive away. Golfers will find more than a dozen different golf courses to choose from. Animal lovers will be blown away by Fossil Rim Wildlife Center. If you just want to laze at the beach, we have you taken care of. City Beach Park is just a short walk from downtown, and located right next to the Hilton. Here, you can build sand castles, go for a swim, or relax on the soft sand.
The New Granbury Live and The Granbury Opera House, both on the Square, have shows almost every weekend. There is even a drive-in movie theater in town.
As you can see, there is so much to do and see in Granbury! We hope to see you soon!