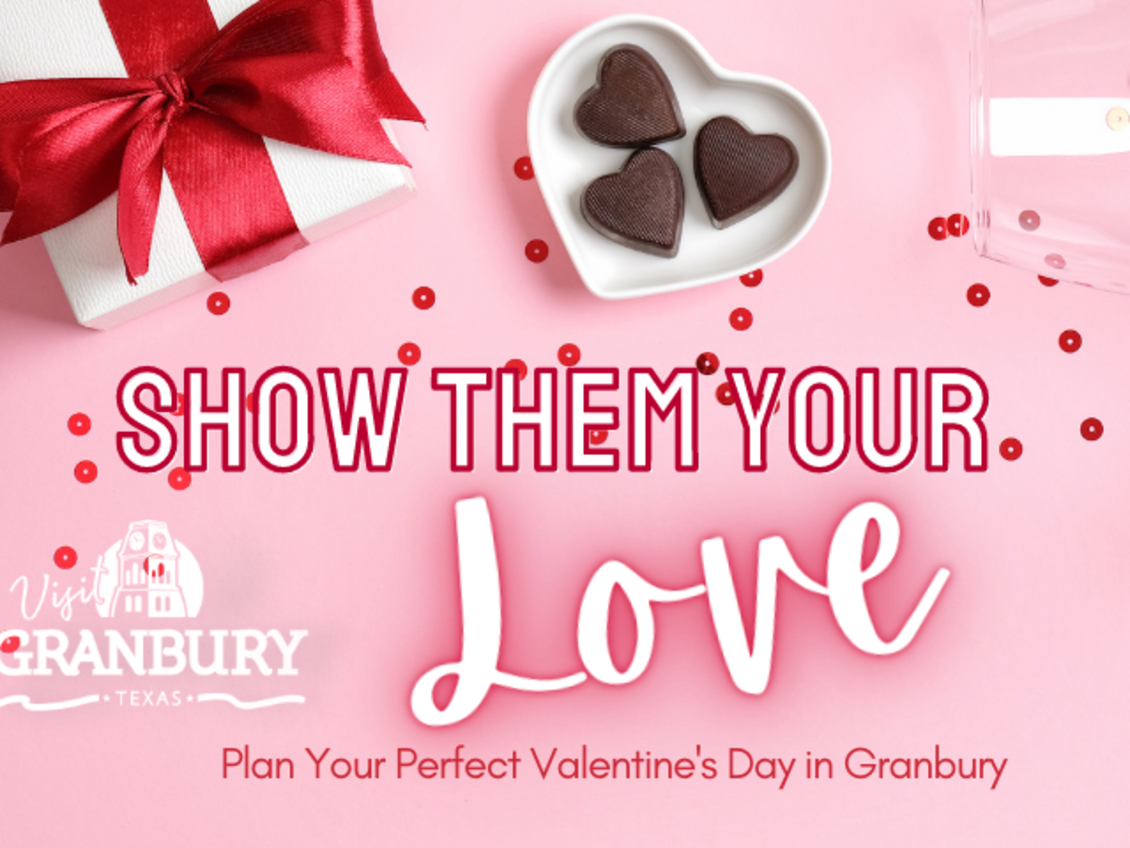 Sending you our #GranburyLove, we've put together this list of everything Valentine's Day to help you plan the perfect gift and/or getaway for your loved ones! Check it out!
D'Vine Wine has something going on during the weekend AND on Valentine's Day!
Friday is Music, Massage, & Merlot featuring Hood County's Best Karaoke, $1/min chair massages and wine 
On Saturday, Feb 11 we will be offering wine-tasting specials to include chocolates and more! It is the first Girls Night Out of 2023 which kicks off from 3-6 pm.  Shop participating locations designated by pink balloons and earn a ticket for each $10 you spend to enter into a drawing for door prizes and 100 Downtown Dollars at 6pm. The Drawing and After Party will be held inside D'Vine Wine with live music by the Mysterious Scoundrels starting at 6:30.  So whether you are here for a romantic weekend or a fun Girls Galantine adventure, Granbury is the place to be. 
Then on Tues Feb 14, Valentine's Day we will be open till 8 pm.  Be sure to make reservations at your favorite restaurant and we hope you will stop by D'Vine Wine before that for a glass of wine and a special gift. 
Warren's Backyard will celebrate Valentine's Day with a night of amazing food, two-step dancin', and lots of romancin'!
The talented Lani Butler Duo will be performing during a catered dinner from Hard 8 BBQ with couples games as well!  Dinner will be a Peppercorn-crusted Sirloin and rosemary cream -auced chicken breast, with twice-baked potato casserole and bacon-wrapped asparagus!
Desserts will be a homemade surprise!  Doors open at 5, music at 6:30, and food at 7! We have some games we will play after dinner as well! Tickets are $50 for an individual and $100 for a couple! This covers dinner, 2 complimentary drinks, and our entertainment for the night! Click Here for more details!
Do you struggle with last-minute gifting at Valentine's Day? Stress No More!
Head over to the YMCA Farmers Market on Saturday, Feb. 11 to help you pick out all the items to put into a lovely gift set. This Sweetheart's Bazaar is your one-stop-shop for flowers, candy, cards, candles, mocktails, wine glasses, yoga gift cards, spa items, art, grill items and so much more! Extra Comforts will make up your items in a sweet basket to give that special someone!! Baskets and flowers can be picked up Monday, Feb. 13th from 4:30 to 6:30 at the YMCA. Children welcome!
Go the extra mile and create your own card to gift to your loved one!
This Made by You Valentine Card event will be held at the Granbury's Gatsby on Saturday, Feb. 11 from 1-4 pm. Why don't you have some fun & make the card yourself! One of the Granbury Gatsby's own vendors is an expert card maker & she is hosting a "Made by you Valentine Card" event in Granbury's Gatsby's "Speakeasy". Darla will have all the supplies you need on hand ready for you to make your special sweetie a card. Make one, two or three! Make as many as you like! Bring friends & turn it into a real party! Cost is calculated on a card-by-card basis. 
Show us your moves!
The Hood County YMCA will be hosting a Sweethearts Dance with dinner, dancing, dessert, and fun for all ages. Bring your friends, family, and of course, your sweetheart! $5/person
Ladies! Prepare for Valentine's Day with the Galentine's Day event at the Pearl Boutique at Hotel Lucy!
It'll all be happening on Thursday, Feb. 9 from 5:30-7:30 pm.  Check out all the fun, chic Valentine's Day merchandise! Come for the shopping, and stay for the Giveaways!
Boozy Bus Tour for 8
One Night Stay at Hotel Lucy
The Pearl Door Prizes!
St. Helen's on the Square will be carrying all sorts of great Valentines Day merchandise and gifts!
Shop new bling from Julie Vos and enewton along with a great selection of gifts that scream "I LOVE YOU!"
Stop by and chat with Amber (Tues - Thurs) about a custom "forever" floral arrangement!
Pug On a Pontoon has lots of Valentine's Day goodies from the Pug!
An entire V-Day collection on our website and we also have some really great V-Day-themed pics! Check out their website for more!
Caylor Creek wants to help you spread the love
Caylor Creek is going to be doing LOVE LETTERS to the community/friends/families from February 7th - February 14th.   Customers can come in and write a letter to whomever they choose, but if it is to someone in the community such as fire, police, city, or county departments we can deliver them.  We are just wanting to share love and appreciation for the ones who help us!
Stop by and try out the Red Velvet Cake or Chocolate Covered Cherry popcorn!