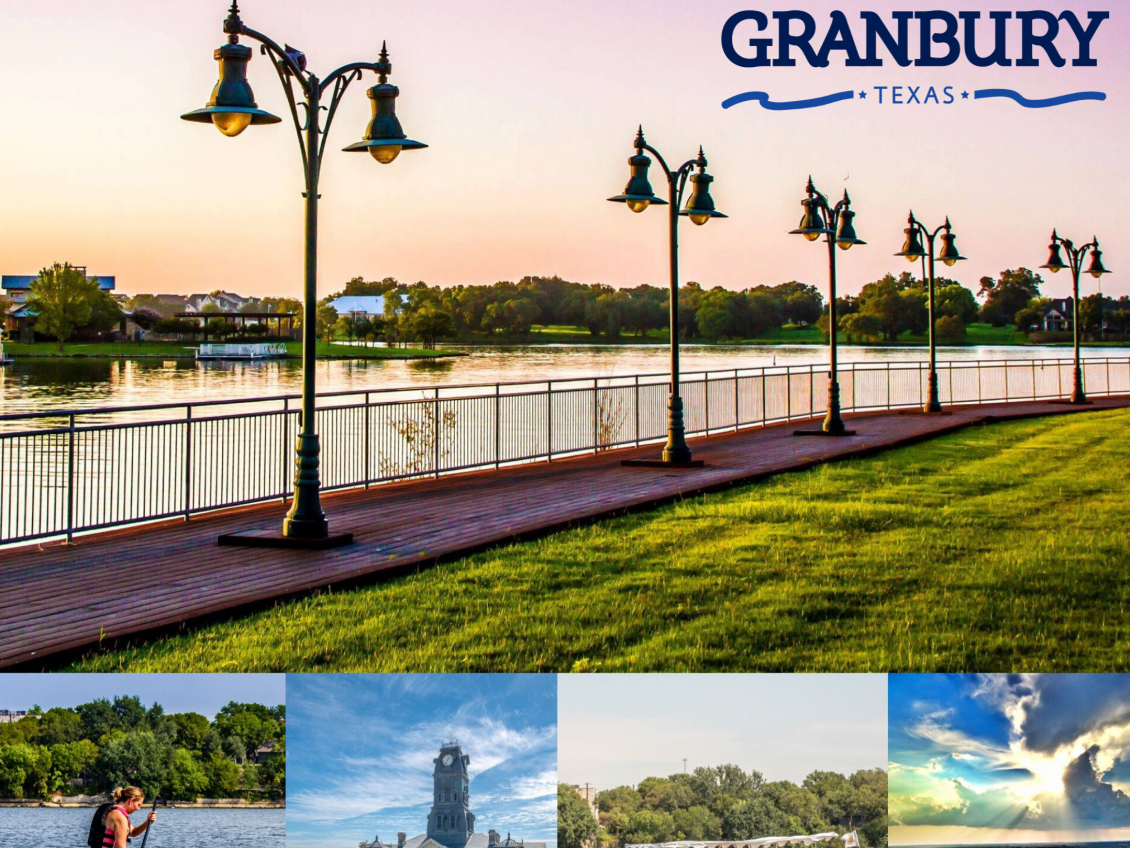 Looking for a quick getaway? Situated desirably just southwest of Fort Worth, Granbury is the perfect 24-hour getaway! With so much to see, do, eat, and complete with many award-winning places to stay – it's the ideal place to get away with your family, friends, or partner. Granbury has something for all ages to enjoy, all year long.
Read on for our ultimate 24-hours in Granbury Guide!
To Do –
Start your trip off by strolling the iconic Historic Granbury Square. This downtown area is well-known in both Texas AND America for a reason. After all, we've won 'Best Historic Small Town in America' twice.
Sip and stroll through the many boutiques, unique shops and antique stores that you can find all in walking distance of each other!
While you're Downtown, don't forget to get some outdoor time in at the City Beach Park! At this sandy coast, you'll forget you're at a Lake Granbury beach! Catch some rays and pack a picnic for your group on a fine summer day at this unique spot.
As a bonus, the Boardwalk that crosses the City Beach is amazing for a sunset romantic stroll!
To See –
Interested in some of the top tourist attractions? Stop by the Hood County Jail Museum or the Dollhouse Museum. Both are fascinating and have extremely special attractions for different audiences.
The Hood County Jail Museum is just off the Historic Granbury Square, and while built in 1885, the building served as the only jail for the city until 1978. The museum also showcases artifacts and memorabilia depicting the history of Hood County. 
The Dollhouse Museum is a one-of-a-kind trip through time. Located in the historic district right off the Square, the Dollhouse museum features a variety of exhibits that include celebrity dolls, dolls from many countries, baby dolls, Barbie Dolls, dolls depicting religion leaders, Madame Alexander dolls, and other special displays. Everyone who loves dolls will find something in the new museum that will bring back a memory, or create new ones.
To Eat –
You're in luck – Granbury has an entire Foodie Trail dedicated to the delectable eats in town. A few come to mind if you're in town for a quick trip.
Farina's Winery and Cafe is located on the Square and features an extensive Italian-style menu complete with a unique atmosphere in a historic building.
Stop at Flame's for dinner to dine on authentic seafood, with a fun small-town atmosphere, located just off 377!
To Stay –
When you're ready to call it a night, rest your head at the beautiful Iron Horse Inn. This Bed and Breakfast is in the largest restored historic home in Granbury, Texas. It sits just 90 minutes southwest of DFW airport. The exquisitely restored Craftsman-style mansion offers exceptional Southern hospitality. The perfect small-town bed and breakfast experience!
We can't wait to hear about your 24 hours in Granbury. Tag us on Instagram @visitgranbury